Browsing articles tagged with "fitness Archives - chai soy latte"
As I mentioned in my last post, I hit the ground running with Kris Gethin's 12 Week Trainer right after finishing Jamie Eason's LiveFit Trainer.  I had meant to take a week off in between the two trainers, but on very last day of the LiveFit Trainer, which was a rest day, the trying on of a bandage dress coupled with my gym withdrawal made me high tail it back to the gym that very night!
Between all the things I've been trying to balance in my life, its been a while since I've gotten a chance to be able to sit down and write.  But with finals over and school out of the equation, I'm back on track!  By the way, blatant brag: I totally aced my java class that I was so nervous about :)  Another accomplishment during this time: I finished Phase 3 of Jamie Eason's LiveFit Trainer and even got started on a new program.
Here's one way to track my progress… My abs!  It's amazing what eating well and training can do for the body (some of you may know that as diet and exercise ;).

View full post »
Two more weeks to go!  I'm proud of myself having completely stuck to the schedule for the past two and half months.  I haven't skipped a workout at all.  In fact, I've actually skipped rest days (not bragging and not recommending the latter; it's just a fact.  Will explain later).
As promised by my wonderfully supportive beau, he got me this lululemon Live Freely tank as my reward for finishing Phase 2 of the program.  I think this is my favoritest lululemon tank yet!
It exists and it's SO GOOD.  Here's a square of it with CLEAN peanut butter frosting on it.  Look how moist it looks!
Since starting Jamie Eason's LiveFit Trainer last month, I've been jone'sing for some treats.  I have the occasional chocolate protein bar, but those can be sugary and more caloric, plus — I was really just craving chocolate CAKE.  So I started Googling and discovered the most amazing chocolate protein cake recipe ever.  It's 100% clean and high in protein.  Since discovering this recipe, I've baked this about half a dozen times using several variations with different ingredients and sizes (don't worry, I'm not eating it all by myself; I share!).
And feeling fab!  I'm in the middle of week 6 now, so I'm on Phase, like, 1.5… :)  Here I am sporting my new I-just-finished-Phase-1 rewards at the gym: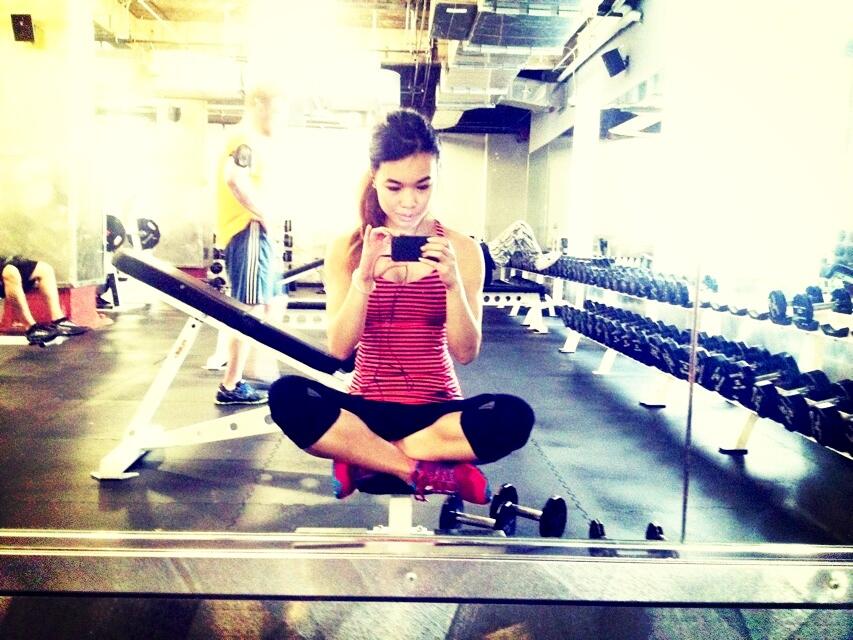 View full post »
Recent Posts